Wheels
Home of the LUAS Carbon Clincher hand-built in store, built for Irish roads.
Also Mavic, Campagnolo, Miche and Zipp Wheels available. 
We also stock a large selection of Hybrid, and MTB wheels. 

Replacement Wheels A Customers Guide:
Wheel buckled beyond repair, did you reverse over the wheel, or is the braking surface just worn out? We can help...
We keep a stock of wheels to get you back on the road or trail. However, it can be difficult to know exactly what wheel you need. What size is it? Is it a solid axle or quick release wheel, six bolt or centre lock?
Here is a guide to help you choose the the correct wheel for your bike. There are four main areas to help you determine the correct wheel and they are: Wheel Size, Axle Type, Gear Type and Brake Type.
(1). Wheel Size:
The wheel size will  be indicated on the side of your tyre. Wheels can go from 12" to 29". What you are looking for is a marking on your tyre sidewall that will say 26" x 1.95 for example. 26" is the wheel size.  Adult bikes will be 26",27.5", 28" (700c) or 29". In the image below the the tyre size is 28 x 1.00. This means the wheel size is 28" or 700c.
(2). Axle Type:
There are two main types of axle type, Solid Axle and Quick Release.
Solid Axle: These type of wheels will have two external nuts holding the wheel in place. Two at the front at the fork holding the front wheel in place. and two at the back holding the back wheel in place.
Quick Release: Instead of nuts this system has a lever that you tighten to hold the wheel in place in the bike.
(3).Gear Type:
Again there are two main types to choose from, Screw On or Freewheel.
Screw On/ Thread On: This is exactly what is says your cogs at the back wheel of your bike are  made of one piece of metal that screws onto your back wheel. Screw on cogs are usually found on 5,6, &  7 Speed bikes, that is bikes with 5/6/or 7 cogs at the back wheel.
FreeHub: This is normally on bike with 8 gears or more. The cogs at the back of your bike slide onto a splined shaft on the wheel.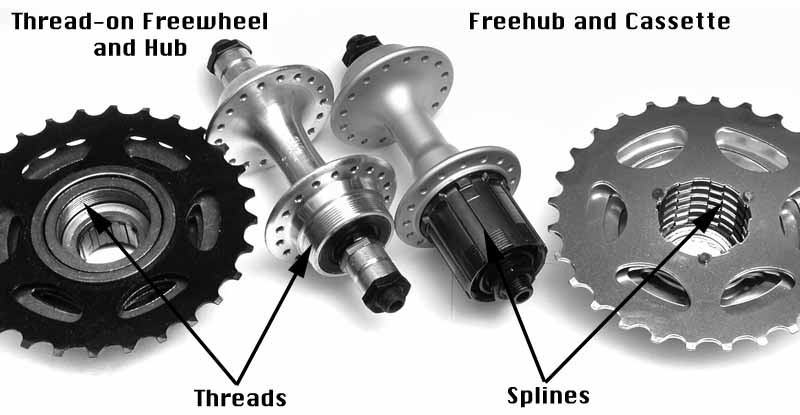 (4). Brake Type:

Nearly there, last step is to indentify the brake type of your wheel, ie what type of brakes has your bike got. It's either going to be a Rim Brake Wheel or a Disc Brake Wheel.
Rim Brakes: This is where two rubber pads either side of your wheel pull togher against the rim of the bike.
Disc Brakes: This is where a a disc rotor on the left hand side of the bike is stopped by a calipers on the left front fork and to the rear of the bike. These look like motor bike brakes. There are twio main types of fitment for disc brakes. Six Bolt and Centre Lock.
Six Bolt is where the disc brake rotor is attached to the wheel by six bolts.
Centre Lock is where the disc brake rotor is attached to the wheel on a splined shaft and tightened up.
---